On 5th May 2018 Bernstein & Banleys Limited will celebrate it's 65th anniversary. In celebration of this milestone we wanted to share with you a br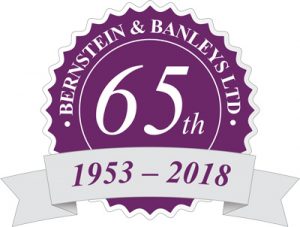 ief history of the company from Jonathan Bernstein, our Managing Director.
The family business was started in the 1930s when my grandfather Jacob Bernstein emigrated from Poland to London. Officially incorporated as J. Bernstein Linings Limited on 5th May 1953, the business began from humble beginnings with my father Ziggy working from home in Fitzrovia before taking premises in Newburgh Street, Soho in 1960. That same year the company underwent a name change to its current name of Bernstein & Banleys when Barry Levy became a joint business partner.
The business moved to larger premises in the early 1970s to Cork Street, just around the corner from Savile Row and our main client base. In the 80s there was another move for the business, this time further north to Golders Green. I joined the business in 1989 – as only I could on 1st April!
B&B has enjoyed continued growth over the last 30 years due to diversification into womenswear, bridal and the film and theatre production sector whilst not forgetting our core, original base of supplying true, traditional bespoke tailors. Even with a move to sunny Southend-on-Sea at the beginning of 2011 we continue to offer same day deliveries to the City and West End of London for long-standing trade customers.
Another key area of business development for us has been our website. Our website has grown substantially in recent years due to increased product availability and worldwide demand.
Ultimately the aim of my grandfather 65 years ago, my own father and myself today remains the same – to maintain a high level of service to our customers and offer continued growth in the quality of our products. For example, our Jacquard woven and printed lining ranges have gradually grown to a level where we are offering more and more bespoke, customised design linings. This is proving to be an increasing trend within the industry.
Looking to the future not only are we proud to be celebrating the company's 65th anniversary this year, I am pleased to announce the recent appointment of my daughter Anna as a Company Director. Anna becomes the fourth generation Bernstein to strive and take the Company forward in these interesting and challenging times.
Special Offer
To commemorate the 65th anniversary of the company we would like to offer a 10% discount on all orders over £50 on our website this bank holiday weekend – as a thank you for the continued support of our customers. To redeem your discount please enter code BB65TH at checkout.