Earlier this month we launched our new Printed Lining Collection bunches.  These include 22 new designs for Spring/Summer 2018. We wanted to share with you the inspiration behind some of the designs that have gone into the fifth version of the collection.
Island Inspiration 
It all started in January 2017 when our Managing Director, Jonathan Bernstein went on a special anniversary cruise with his wife Barbara around the Hawaiian and South Pacific islands. Jonathan was taken with the idyllic beaches, stunning landscapes and bright colours of the flora and fauna. This trip has been the inspiration behind some of the more colourful new designs such as Island Paradise and the Bora Bora design which is available in three colourways.  Also the Tahitian Girls design has joined our Hawaiian Girls and Pin Up Girls in the collection.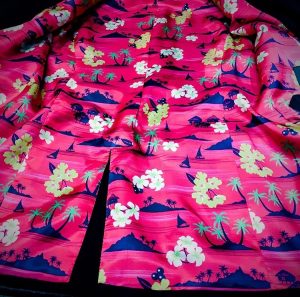 Hitting the Jackpot
We have also added three sports related designs for fans of horse and car racing and those who like a flutter at the casino. These are called Final Furlong, Pole Position and Feeling Lucky. Already Final Furlong is proving popular during this horse racing season.  Milliners TaylorRed have used the design in a cap for Cheltenham.
With a Twist
With these new designs we've also taken the opportunity to build on popular themes but with a new twist. Due to the popularity of our previous skull designs we were keen to add some skulls new designs to the collection. We're sure that our Smokin' Skulls with varying styles of hats and cigars/cigarettes will certainly be a conversation piece – particularly with the vivid colours of the orange/blue design!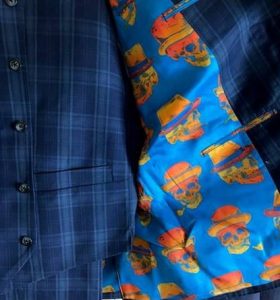 The collection also includes some new paisley designs. We've had the pleasure of working with a local artist who specialises in paisley patterns. Joining our more traditional paisleys are a focus again on flora and fauna with hibiscus and palm tree designs along with two colourways of an elephant paisley. This is a favourite of ours at the B&B offices.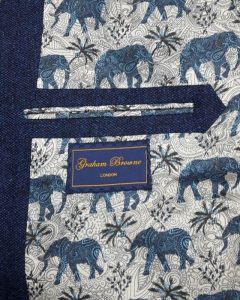 The full Printed Lining Collection including the 22 new designs are available to view here. We hope you enjoy the new printed lining designs as much as we have creating them. Please do share any images you have of our linings in finished garments on our social media pages or send them to social@qualitylinings.co.uk