It's stretch season at B&B! We are pleased to announce the launch of a brand-new range of Supastretch Satin lining and the addition of 12 new colours to an existing stretch lining range.
Quality 565 – Supastretch
Our new range of Supastretch lining is a luxurious Polyester/Lycra Satin, available in 4 colours – Ivory, Scarlet, Navy and Black – this fabric is 88% Polyester and 12% Lycra. Woven on a last generation double loom 250cms wide with a finished width of 175/180cms, this high Lycra content stretch has excellent recovery with a silky handle and drape as the final process is completed on the same machinery as silk crepe satin at the mill in Como.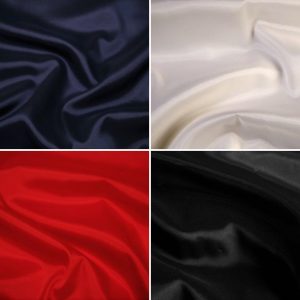 Quality 563 – Polyester Satin Stretch
Our long established range of Poly Satin stretch linings has the addition of 12 new shades ranging from Dragoon Red and Dusky Pink to Aubergine, Silver and a rich Navy Blue. With a 97% Poly / 3% Elastane composition mix this range has a nice amount of stretch with a lovely satin finish making it soft to the touch.
By the end of the year we will have a new shade card of the 563 range available showing all 37 colours available with a large feeler pattern to get a better idea of the stretch of the fabric.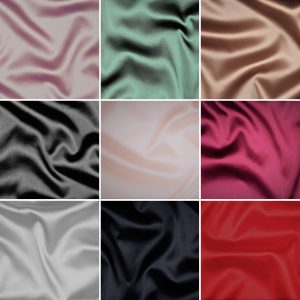 A Bit of a Stretch…
Why use a stretch lining? Well, first and foremost, these stretch linings complement stretch outer fabrics and can be washed at 40 degrees as well as dry cleaned. This versatility increases the uses of the fabric – not just for lining dresses and jackets but also making a great choice for dancewear as well as for costumes in the film and theatrical industries.
We will be exhibiting our new arrivals later this month at the Textile Forum on 10th-11th October at One Marylebone in London.
Please contact us for more information about the 565 and 563 ranges as well as any of our other products.