B&B have returned from a very successful trip to the International Apparel & Textile Fair in Dubai.  The 7th edition of the IATF was hosted at the Dubai World Trade Centre from 1st – 3rd November.  With nearly 100 exhibitors the show is a textile sourcing fair bringing together merchants from the textile and apparel industry.  This allows designers and buyers to view a wide range of fabrics not just from the Middle East, but across the world.
As one of only 3 British companies at the IATF we were proud to be representing the UK.  We also had the honour of meeting His Excellency Buti Saeed Al Ghandi at the official opening.  Mr. Al Ghandi is a renowned businessman who as well as being Managing Director of Al Ghandi Investment Co., serves as Chancellor of the Canadian University of Dubai and Vice Chairman of the Dubai World Trade Centre.  He spoke with B&B Managing Director Jonathan Bernstein about the importance of improving business relationships globally.
This was the third time B&B had exhibited at the IATF.  It was a great opportunity to catch up with current customers whom we had met at previous shows or usually order through The Lining Company website.  The B&B team also met with a number of potential new customers and discussed some exciting potential opportunities with them.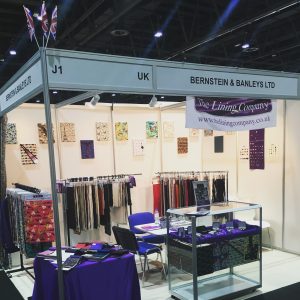 New Products
We were thrilled to exhibit some new ranges at the IATF this year.  This included previewing a new design of printed lining which will be added to our collection in Spring 2018. We also displayed our new range of limited edition solid gold buttons at the show.  Having spoken to some customers about the potential of producing this style of button at the show last year it was great to be able to present the finished items this year.
We thoroughly enjoyed attending the IATF this year and look forward to returning next November.