On Monday 10th October 2016, Russell Howarth of Graham Browne Bespoke Tailors, his wife Mandy and their two children, will appear in the Wall to Wall Series 'The Victorian Slum' on BBC Two.
This Warner Brothers Television Production UK Ltd, is an ambitious new living history series, it will take one corner of the East End of London to the late Victorian era – a time when the East End of Lon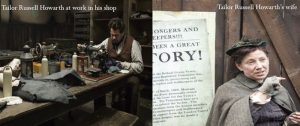 don poverty began to make the headlines.
In this series there will be 13 people living in a house in which they have no running water, central heating or electricity.  There is no bathroom and only basic cooking facilities.  The access the "residents" of the house have to water is from a hand operated pump in a courtyard shared with a pair of donkeys.
Mandy Howarth, said "the thing she missed the most is not being able to have a shower but the toughest thing, is worrying if they would make enough money and what they were going to eat?"
In the first episode of 'The Victorian Slum', we saw Russell at Graham Browne Bespoke Tailors shop where they showed a glimpse of our Linings of Distinction Bunch, to watch this episode Click Here.